Bluetooth Scale and Body Composition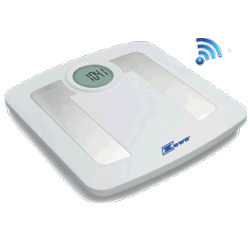 Zewa's Bluetooth Scale and Body Composition Analyzer is a one of a kind connected health product. It uses Bluetooth BLE to synch information with Zewa's free Smartphone app. The App analyses readings over time and displays charts and spreadsheets. Want more information? Open an online account and your information is automatically transfered from your phone to the online account. For additional information, please visit www.myhealthconnected.net.

Large Display with Backlight

App calculates Body Fat % and BMI.

FREE App:
Compatible with Android and iOS.
Transfer Readings Automatically
from Scale, to Mobile device to Cloud Portal using the MyHealthConnected App.
A cloud-based portal
lets you access your data from wherever you are. It easily links to your healthcare professional and shares your measurements automatically.*
* Automatic data sharing needs approval from healthcare professional and patient.
Automatic transfer
eliminates the need to enter readings by hand.
Take Control!
Add additional Zewa Bluetooth devices to monitor more vital signs using the same app and cloud portal.
Review data in app or online.
Converts data into charts and spreadsheets to easily spot trends that can help you and your healthcare professional manage your weight.
Your security is important.
You data is safely stored on a HIPAA compliant server.