Non-Contact Infrared Ear-Forehead Thermometer -
Connected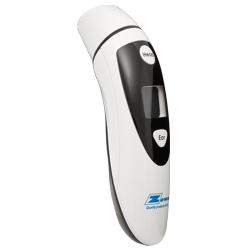 Model: 11115
Non-Contact, Ear-Forehead Infrared Thermometer with LCD Display
with optional wireless connectivity and free MyHealthConnected App for iOS and Android offers choice of ear or forehead fever monitoring. Quick, easy readings in seconds. Clinically tested accuracy and FDA approved. Audible Fever Alert Sound may be turned on or off. Get the App to record multiple user readings. Measures in Celsius or Fahrenheit.

Dual Mode
Ear or Forehead measurement.

Professional Medical Equipment
Recommended by doctors and pediatricians.

Quick and Easy
Display temperature reading in seconds. Easily switch between C and F.

Fever Warning
Audible fever warning. Sounds can be turned ON/OFF.

Reliable and Accurate
Clinically tested and proven to be reliable and accurate when used in accordance with operating instructions.

Wireless Data Transfer

Connects to Android and iOS mobile devices.
Transfer Readings Automatically from Pulse Ox to Mobile device. Automatic transfer eliminates the need to enter readings by hand.
Take Control! Add additional Zewa Bluetooth devices to monitor more vital signs using the same app.
Review data in app. Converts data into charts and spreadsheets to easily spot trends that can help you and your healthcare professional manage your oxigen level.
Free App is available in Google Play or Apple store.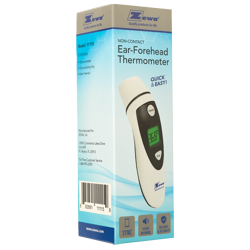 Product Includes:
1 x Thermometer

2 x AAA Batteries

1 x Instruction Manual