NON-CONTACT INFRARED EAR-FOREHEAD THERMOMETER BLUETOOTH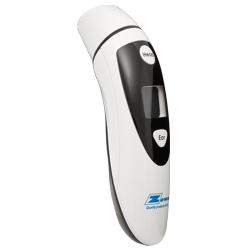 Infrared Thermometer measures the body temperature based on the infrared energy emitted from the ear or forehead. Users can quickly get measurement results after positioning the temperature probe at ear or forehead.
Dual Mode
Ear or Forehead measurement.
Quick and Easy
Display temperature reading in seconds. Easily switch between C and F.
Reliable and Accurate
Clinically tested and proven to be reliable and accurate when used in accordance with operating instructions.
Professional Medical Equipment
Recommended by doctors and pediatricians.
Fever Warning
Audible fever warning. Sounds can be turned ON/OFF.
Wireless Data Transfer

Connects to Android and iOS mobile devices.