CLASSIC AUTOMATIC BLOOD PRESSURE MONITOR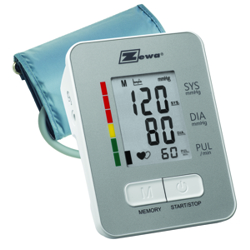 The UAM-720 is easy to use with 2 buttons. Simply wrap the cuff around your arm, press the START button and the blood pressure monitor does the rest. It even stores 90 readings automatically.

1 x 90 Reading Memory:
Monitors and tracks 90 readings for one user.

AC Adaptor Connection:
Use the device with an AC adaptor instead of batteries (AC Adaptor not included in all models).

Average Function:
Automatically calculates the average of last 3 readings.

BHS (British Hypertension Society):
This blood pressure monitor uses advanced technology that has been give the highest rating available by the prestigious Britih Hypertension Society.
(Uses the same measurement algorithm as AA validated model LD530).

Blood Pressure Indicator:
Easy to read color scale (green, yellow, red) indicates if blood pressure is normal, pre-hypertensive or hypertensive.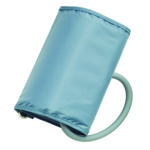 Available Cuff Sizes*:
Small: 5.9" - 8.7"
Standard: 8.7" - 12.6"
MED/LRG: 8.7" - 14.2"
X-Large: 13.4" - 18.9"
*1 Cuff is included in each device (size varries depending on model #).

Irregular Heartbeat Indicator:
If irregular heartbeat is detected, an indicator icon will appear alerting you so you can consult your medical professional.

Product Includes:
1 x Blood Pressure Monitor