PREMIUM AUTOMATIC BLOOD PRESSURE MONITOR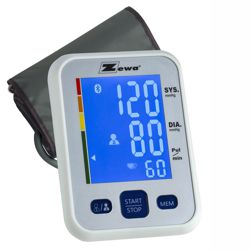 The UAM-880 Ver 2 is our next generation wireless blood pressure monitor. It measures on inflation resulting in a faster more comfortable measurement. While it stores readings for 2 users (2 x 60) it can also connect to an Android or iOS Mobile device using our MyHealthConnected App.

2 x 60 Reading Memory:
Allows 2 different users to monitor and track their own readings. 60 Memory storage for each user with date and time.

Average Function:
Automatically calculates the average of last 3 readings.
Date and Time Function:
Automatically stores the date and time when a blood pressure reading is taken.

Blood Pressure Indicator:
Easy to read color scale (green, yellow, orange, red) indicates if blood pressure is normal, pre-hypertensive or hypertensive.

Irregular Heartbeat Indicator:
If irregular heartbeat is detected, an indicator icon will appear alerting you so you can consult your medical professional.

AC Adaptor Connection:
Use the device with an AC adaptor instead of batteries (AC Adaptor not included in all models).

Wireless:
Connects to Android and iOS mobile devices.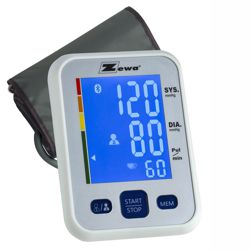 Product Includes:
1 x Blood Pressure Monitor