PREMIUM - Automatic Blood Pressure Monitor -
Connected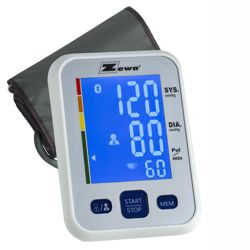 Model: UAM-880XL
Zewa Medical's
"Premium"
Upper Arm Blood Pressure Monitor
features a Large Easy-to-Read Screen with backlight, stores readings for 2 users (2 x 60). Includes both a standard size cuff (9-14.6 inches) and an X-Large cuff that accommodates patients with arm sizes 13.4 to 18.9 inches. Additional features include a full color Easy-to-Read blood pressure scale (green, Yellow, Red), Irregular Heartbeat Indicator, and Date, Time function. It measures on inflation resulting in faster, more comfortable measurements.
This next generation wireless blood pressure monitor can be
seamlessly
integrated to connect with
Android and iOS Mobile devices.

2 x 60 Reading Memory:
Allows 2 different users to monitor and track their own readings. 60 Memory storage f
or each user with date and time.
Average Function:
Automatically calculates the average of last 3 readings.
Date and Time Function:
Automatically stores the date and time when a blood pressure reading is take
n.

Blood Pressure Indicator:
Easy to read color scale (green, yellow, orange, red) indicates if blood pressure is normal, pre-hypertensive or hypertensive.

Irregular Heartbeat Indicator:
If irregular heartbeat is detected, an indicator icon will appear alerting you so you can consult your medical professional.
AC Adaptor Connection:
Use the device with an AC adaptor instead of batteries (AC Adaptors are available but not included in all models).

Wireless:
Connects to Android and iOS mobile devices.

Transfer Readings Automatically from Pulse Ox to Mobile device. Automatic transfer eliminates the need to enter readings by hand.
Take Control! Add additional Zewa Bluetooth devices to monitor more vital signs using the same app.
Review data in app. Converts data into charts and spreadsheets to easily spot trends that can help you and your healthcare professional manage your oxigen level.
Free App is available in Google Play or Apple store.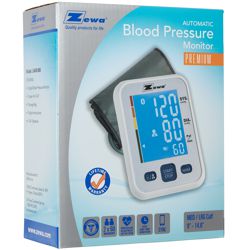 Product Includes:
1 x Blood Pressure Monitor

1 x Cuff

1 x Storage Bag

4 x AA Batteries

1 x Instruction Manual