TALKING AUTOMATIC BLOOD PRESSURE MONITOR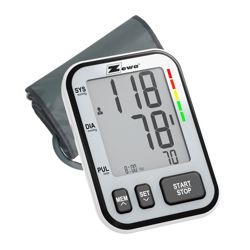 The UAM-901 is one of a kind

Voice Assisted blood pressure monitor

. It gives verbal instructions on how to use the machine and speaks readings when they are done. It can be shared by 2 users using 2 different memory groups (2 x 120 readings).

Advanced Talking Feature:
Gives easy to understand instructions. Speaks measurement results and categorizes readings according to WHO (World Health Organization) standards.

Irregular Heartbeat Indicator:
If irregular heartbeat is detected, an indicator icon will appear alerting you so you can consult your medical professional.

2 x 120 Reading Memory:
Allows 2 different users to monitor and track their own readings. 120 Memory storage for each user with date and time.
AC Adaptor Connection:
Use the device with a standard USB cable instead of batteries (Cable not included). USB cable can't be used for data transfer.
Average Function:
Automatically calculates the average of last 3 readings.

Blood Pressure Indicator:
Easy to read color scale (green, yellow, red) indicates if blood pressure is normal, pre-hypertensive or hypertensive.
Date and Time Function:
Automatically stores the date and time when a blood pressure reading is taken.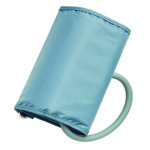 Available Cuff Sizes*:
Wide Range: 8.7" - 16.5" (Included)
Small: 5.9" - 8.7"
X-Large: 13.4" - 18.9"

Warranty:
5 Year Warranty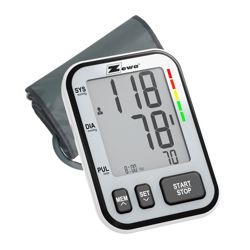 Product Includes:
1 x Blood Pressure Monitor